Coconut sugar is a natural sugar, unrefined and has low glycemic index which makes it great for sugar substitute. The question is how? How to use Coconut Sugar for cooking?
Coconut sugar has a deep and earthy flavor with a caramel hint on top of it. Its base flavor is quite similar to brown sugar, but coconut sugar has a more distinctive and unique taste.
You can use coconut sugar with the ratio 1:1 for substituting your usual table sugar. Coconut sugar has different forms such as granulated, block, and in syrup. You can use it differently as well, it's all based on what you need!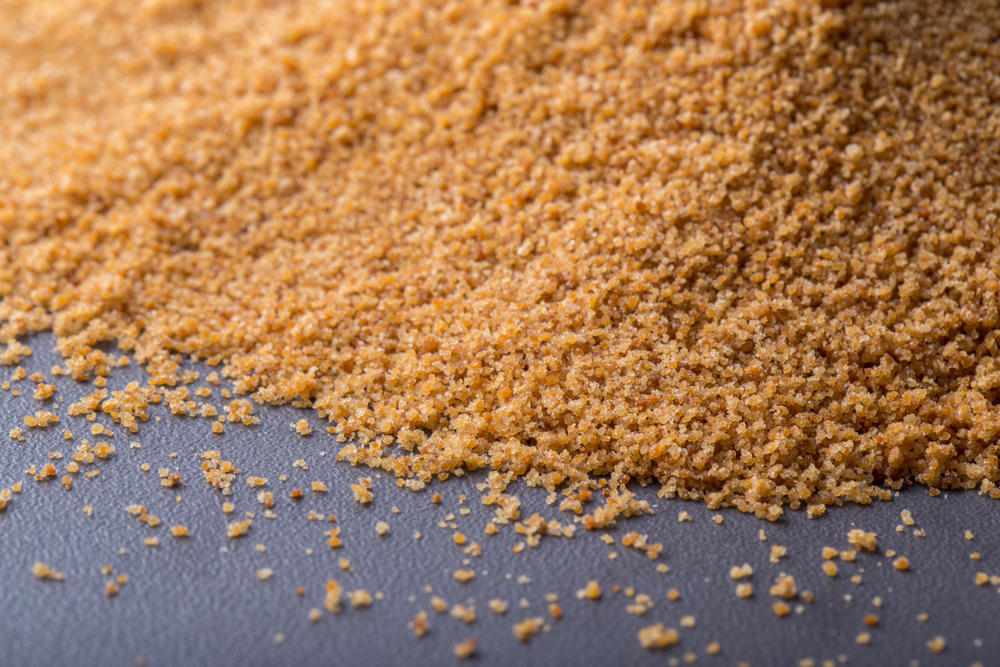 Usually you can use coconut sugar blocks in any kind of drink, cooking, or baking. It has a more condensed and deep flavor from the coconut sugar itself. But to be noted, you have to grind or chop it really well before using the block. For convenience, granulated coconut sugar is used for adding in your favourite tea or coffee, beside the subtle sweetness, surely it adds a deeper flavor to your drink.
Moreover, the coconut sugar syrup is a great topping, similar to how maple syrup is usually used, such as for your pancake, waffle, or on the healthier side… oatmeal! It's also a great plant-based substitute for honey! What a surprise!
Moving on..
Here are other ways you can unexpectedly use coconut sugar for cooking
Some of the easiest and favourite choices: It's wonderful to be used in baking recipes
Who doesn't like cookies?A simple yet delightful dessert to accompany your tea at any time. Coconut sugar makes these cookies taste a lot more going on than they really do! Even though they're really just plain sugar cookies.
As mentioned above, coconut sugar has deep flavour and a hint of caramel brings so much flavor for such little work! Guess what, this cookie recipe only uses 7 ingredients that you already have in your counter, or you can easily buy it in the nearest supermarket!
Ingredients:
6 tablespoons room temperature butter
½ cup + 2 tablespoons coconut sugar
1 large egg
½ teaspoon vanilla
1 cup all purpose flour
1 teaspoon baking soda
¼ teaspoon kosher salt
Optional: to add a little spice and aromatic you can add ½ teaspoon of cinnamon powder
Instructions:
Preheat the oven to 375, and line a baking sheet with parchment paper.
In a medium bowl, beat together the butter, coconut sugar, egg, and vanilla.
Sprinkle the flour, baking soda and salt (optional: cinnamon powder) on top, and beat until combined.
Scoop generous tablespoonfuls of the dough onto the prepared baking sheet, and bake for 8-10 minutes, or until the tops of the cookies look dry.
Let cool on the pan for 1 minute, then move to a cooling rack to cool completely.
Serve immediately, or keep covered in a storage container so that they stay soft.
Inspired from: Coconut sugar cookies recipes
2. Coconut sugar for cooking easy snack recipes - Granola
Looking for a healthy filling snack? Old fashioned granola recipes using coconut sugar is definitely your choice. You can eat it as it is or there are versatile ways you can pair granola with.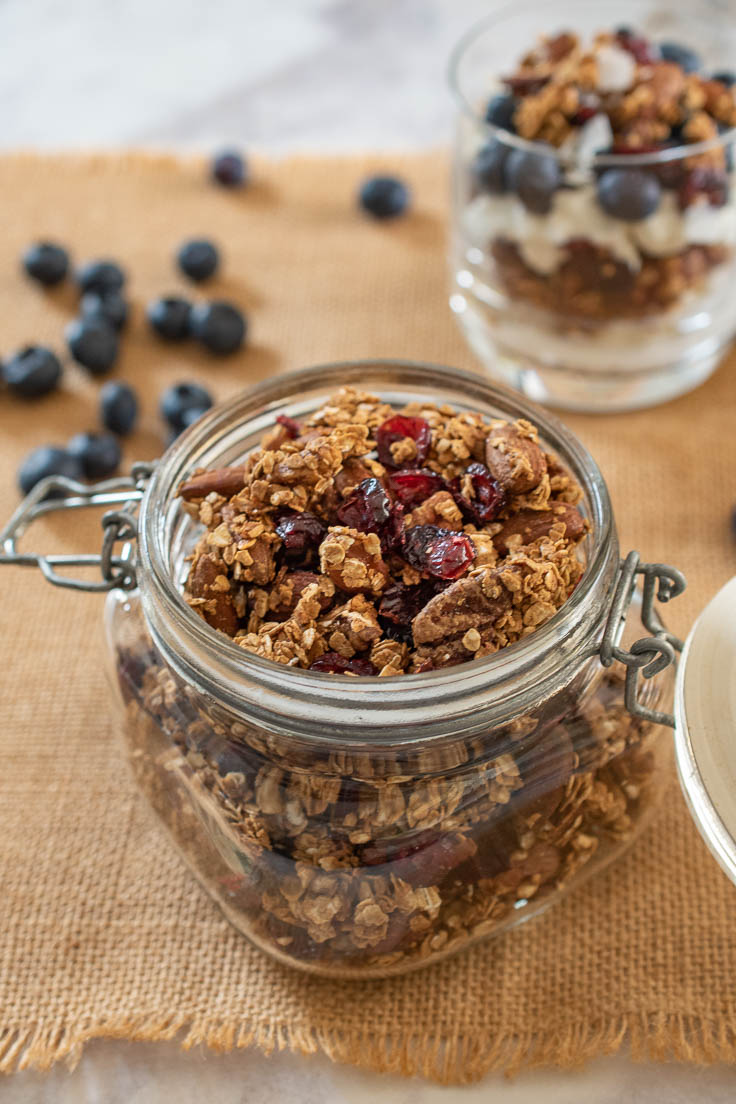 Ingredients:
You can change the ingredients according to your preference
1 cup (145 grams) coconut sugar
2 cups (312 grams) rolled oats
1 cup unsalted, raw whole almonds
1 cup unsalted pecan pieces
½ teaspoon cinnamon
¼ teaspoon salt
1 cup dried cranberries
Instructions:
Preheat the oven to 250°F/130°C.
To a small saucepan add the coconut sugar and 2 tablespoons of water. Heat over low heat (be careful not to burn) while stirring until the sugar is dissolved. Remove from heat.
To a mixing bowl add the oats, almonds, pecans, cinnamon and salt. Pour the melted sugar over and mix well.
Spread the mix onto a large baking sheet and smooth to an even layer and bake for 30 minutes.
After 30 minutes, add the cranberries and stir. Smooth to an even layer and bake for a further 15 minutes. Allow to cool and transfer to sealed containers.
3. Savory coconut sauce recipe
You definitely can use it basically in any savory dish, but remember that coconut sugar has a unique taste and a bit of brown color. So if you want to substitute your sugar usage in your cooking, note the quantity you use so that it won't change the flavour of your dish as much.
But on the other side, if you use coconut sugar correctly, it surely will deepen the flavour of your dish and bring it to another level. Here is a simple, less time, healthy yet delicious and flavourful recipe for Coconut Curry
Ingredients:
You can change the ingredients according to your preference
1 tablespoon coconut oil or substitute extra-virgin olive oil or grapeseed oil
1 medium yellow onion thinly sliced
4 cloves garlic minced
2 tablespoons minced fresh ginger or in a pinch, 2–3 teaspoons ground ginger
3 tablespoons Thai red curry paste
1/4 teaspoon red pepper flakes
6 small/medium carrots peeled and cut into 1/4-inch-thick rounds (about 2 cups)
2 large red bell peppers cored and sliced
2 cans light coconut milk (14 ounce cans)
2-4 teaspoons coconut sugar
1 can reduced-sodium chickpeas (15 ounces), rinsed and drained
2 tablespoons soy sauce plus 2 teaspoons, or tamari to make the recipe gluten free
2 tablespoons rice vinegar
1 cup frozen peas
Chopped fresh cilantro for serving
Prepared brown rice or quinoa for serving
Instructions:
Heat a large pot such as a Dutch oven over medium. Once hot, add the coconut oil and onion. Sauté for 2 to 3 minutes, until slightly softened. Add the garlic and ginger and let cook for 30 seconds, then add the red curry paste and red pepper flakes. Stir to combine and let cook for 1 additional minute. Add the carrots and bell pepper and stir to coat with the spices and curry. Add the coconut milk, 2 teaspoons sugar, and chickpeas. Stir to combine and bring to a simmer over medium-high heat. Then reduce the heat to low and continue cooking (uncovered) for 10 to 15 minutes, until slightly thickened and the vegetables are crisp-tender.
Stir in the soy sauce and rice vinegar. Taste and add additional soy sauce (for more saltiness), sugar (for more sweetness), or red pepper flakes (for more heat) as desired. Stir in the peas and let cook for 3 additional minutes. Serve warm over rice, garnished with fresh cilantro.
Inspired from: Coconut curry recipes
Is coconut sugar better than refined sugar?
It is! Coconut sugar is claimed to have a low glycemic index, which means that eating coconut sugar won't spike your blood sugar level as much as refined sugar does. Moreover, coconut sugar contains more nutrients such as iron, zinc, calcium, and potassium, as well as antioxidants.
Is coconut sugar good for cooking?
Yes, It's wonderful to be used in baking recipes and you definitely can use it basically in any savory dish. But note that coconut sugar has a unique taste and a bit of brown color. So use it in recipes that won't change as much.
Can I use coconut palm sugar instead of white sugar?
You surely can, as mentioned coconut sugar is a healthier option if you want to substitute it for white sugar.  Over and above that, it has varieties of options you can use Coconut Sugar For Cooking
Indo Coconut Sugar - the best and larger high quality coconut sugar supplier and manufacturer in Indonesia